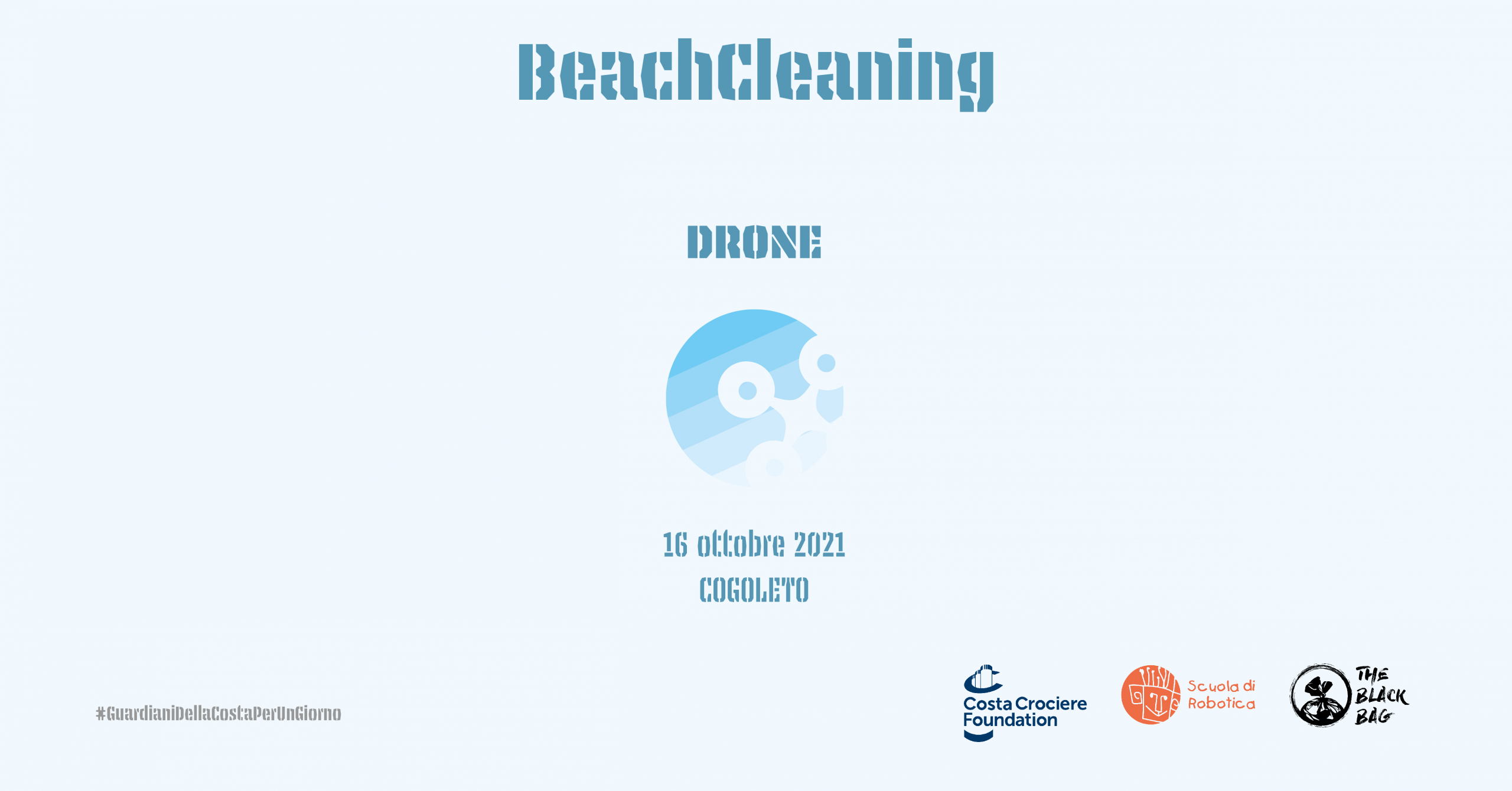 Beach Cleaning tecnologico a Cogoleto (GE)
Beach cleaning tecnologico:
Quando: Sabato 16 Ottobre 2021 dalle 10:00 alle 12:30
Dove: Cogoleto (GE)
Lungomare Gilberto Govi (incrocio Via le Pleiadi)
16016 Cogoleto GE
44.390854, 8.661427
Organizzatori: Scuola di Robotica, Costa Crociere Foundation, The Black Bag
Programma:
Sabato 16 Ottobre 2021 dalle ore 10:00 alle ore 12:30 presso la spiaggia libera in Lungomare Gilberto Govi a Cogoleto si svolgerà un evento di beach cleaning e raccolta plastica organizzato da Scuola di Robotica in collaborazione con Costa Crociere Foundation e The Black Bag, associazione Italiana nata sulle spiagge di Genova che opera a salvaguardia dell'ambiente.
L'obiettivo dell'evento è quello di aumentare la sensibilizzazione e il rispetto per l'ambiente marino con l'aiuto delle tecnologie e della robotica e al tempo stesso contribuire alla pulizia dei litorali e della spiagge rimuovendo la plastica e i rifiuti abbandonati. 
Durante l'evento i volontari che parteciperanno potranno scoprire come la tecnologia può aiutare a tutelare e proteggere l'ambiente. Infatti durante l'evento sarà organizzata una dimostrazione con un drone per spiegare le potenzialità di questo strumento per la mappatura e il monitoraggio del territorio. Inoltre per tutta la durata dell'evento sarà presenta una biologa marina che aiuterà i partecipanti a capire le dinamiche legate all'inquinamento ambientale con l'obiettivo di realizzare un evento ludico e didattico al tempo stesso. 
Il programma dell'evento sarà il seguente: 
09:30-10:00: Accoglienza volontari
10:00-11:00  Pulizia della spiaggia e raccolta rifiuti
11:00-11:45: Analisi rifiuti raccolti e dimostrazione con il drone
11:45-12:30: Conclusioni e saluti
PRENOTATI PER PARTECIPARE ALL'ATTIVITA'