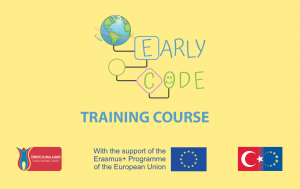 . 

The Italian presentation event of the results of the Erasmus plus project, EARLY CODE, will take place online on 21 July 2020, organized by the School of Robotics.
THE PROJECT: Early Code is an Erasmus plus project dedicated to the development of a curriculum for a university course, dedicated to students of Education Sciences who want to specialise in teaching children in pre-school (3 – 6 years old). In particular, the aim is to propose tools and methodologies to promote computational thinking in young children.
Scuola di Robotica is one of the partners in the project, together with the University of Bucharest in Romania, the University of Riga in Latvia and the EarlyYears association in Northern Ireland. The project leader is Turkey, with the Ahi Evran University and the APEC association.
The role of the School of Robotics is to evaluate and present the best tools, strategies, and methodologies for teaching children, as well as to organise an international training for students from the countries involved that can be the gateway to the inclusion of the curriculum in universities. The main challenge is to develop strategies and tools, which must be mainly unplugged – i.e. not using electricity – to be able to communicate computational thinking.
Website: www.earlycoders.org
WHEN: 21 July 2020 from 11:15-13:15. The course will remain on the link and can be viewed afterwards.
FOR WHO: primary school teachers, educators, tutors, parents
PROGRAMME
Introduction to the EARLY CODE project
Needs, aims and objectives
The partners
Analyses and predictions on OI
Introduction to the curriculum
The project's teaching methodologies extracted from IO2
Presentation of the IO3
HOW TO REGISTER: Registration is free of charge. Here is the link: https://www.scuoladirobotica.it/product/robo-orienteering