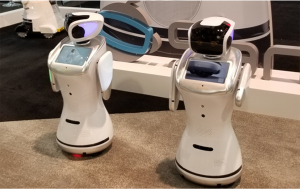 During the peak of COVID-19, in March-June 2020, six humanoid robots helped to make the lives of patients in isolation and the work of hospital staff less burdensome.
The six robots were placed by Omitech srl in the isolation rooms at the Circolo and Fondazione Macchi hospital in Asst Sette Laghi di Varese (one robot for every 2 beds) and allowed remote monitoring of patients' conditions, measuring their vital parameters, answering their questions: thanks to the camera with which each robot is equipped, staff could see the patient remotely through the robot's monitor, in telepresence and without physically accessing the room.
The robots were placed in the High Intensity Medicine department of the Assst Sette Laghi Hospital in Varese.
Moreover, through the robots, doctors and nurses could also talk to the patient who, if not in assisted ventilation, could answer through voice messages: all patients confirmed that they felt a little less alone, thanks to the robots.
An indirect effect was to reduce the consumption of Protective Devices and thus also optimize the time of doctors and nurses, to maximize monitoring and care activities, to the benefit of patients.
In a statement to ANSA, Francesco Dentali, director of the department of High-Intensity Medicine, "their presence seeks to resolve a need that has arisen in caring for these patients: long isolation".
We asked Dr. Matteo Cestari, CEO of Omnitech, to talk to us about robot programming and its impact on patients. His answers reveal the shift in focus from robot programming itself to human-robot interaction problems. As Matteo Cestari said, "the problem was not programming the robot, it was understanding humans".
Here Mr. Matteo Cestari's interview text Matteo_Cestari_text