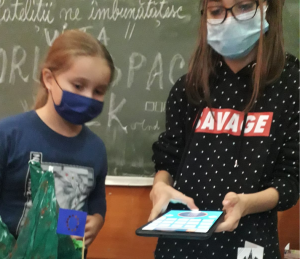 GIRL IN ROBOTICS!
ON LINE EVENT
MULTICULTURAL STORYTELLING AND CODING
October 29th 2020
from 4 to 5 pm CET time
The October 29th. 2020, Meet and Code event organize by School of Robotics with the support of Meet and Code will bring together girls and boys from 4 countries (Romania, Moldova, Turkey and Italy) who have collaborated in a multicultural coding and storytelling project.
National groups have created storytelling texts and these stories – sent to the other groups in English – have been turned into animation with Scratch and Python by students of another nation.
On the 29th of October in an online event, the girls and boys will present their stories. They will also show their robots programmed for some missions.
The participating schools and associations are:
School of Robotics, Italy
Liceul Tehnologic "Carol 1", Valea Doftanei, Romania
Istituto De Ambrosis Natta, Chiavari, Italy
GirlsGoIt, Moldova
EduCloud, Turkey
Ismail Kaymak School, Merkez/Çanakkale, Turkey
Istituto Cellini, Valenza, Italy
The online event is open to everyone. The registration is free but it is required for the participation
Free registration: https://attendee.gotowebinar.com/register/5336886915154894604
Meet and Code: https://meet-and-code.org