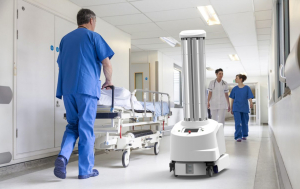 Focus on the Emergency robots
In a dramatic situation like one of these days, there are many, among roboticists, robot users and robot fans, who would like to be able to help healthcare professionals and those who are doing their best in the various essential activities.
The current situation is extraordinary and no one can predict exactly how it will develop.
The healthcare system, and hospitals in particular, are under incredible stress, often to the limit. Many patients are treated in intensive care units, but also in normal wards or even at home. To prevent the further spread of Coronavirus, patients are isolated and, if at home, must follow certain strict hygiene rules.
A possible solution in these cases is telemedicine. Patients, who are treated in the normal ward, at home, in the
nursing home for the elderly, in nursing homes can be trained to take vital parameters such as blood pressure, heart rate, and temperature. These data can be collected and evaluated by doctors or nurses at close intervals, without entering the "isolation room" and without going to the patient. In addition, thanks to telemedicine, patients can contact medical staff at any time and report a deterioration in their health status. In this situation, the advantage of telemedicine could be to focus professionals on severely ill patients with simultaneous and close monitoring of the other, less serious ones.
In addition, mobile robots could bring food and medicine into isolated rooms, relieving staff from routine functions and without putting them at risk of infection. Robots could take food, medication, and patient data. Robots are much easier to disinfect than humans. It would save time than sanitarians, protective clothing, and limit the contagion of staff.
There are professional mobile robots that carry out disinfection and washing on their own. Drone robots can deliver food and medicine directly into homes.
In this situation of forced isolation, the various telepresence robots, which are basically mobile robots with a connected camera, should not be underestimated. They can maintain the connection between patients and healthcare professionals, and also between people in isolation and relatives and friends, thus providing relief.
Humanoid robots at the entrance to hospitals, department stores, and open spaces could provide information and guidelines for behavior without getting tired.
In this column, the Emergency robots, we will inform you about the different and possible uses of robots in an emergency, through interviews, images, and videos.
Follow us.