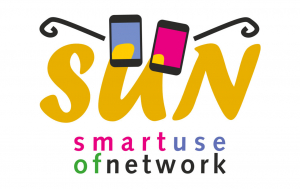 The S.U.N. Project, Smart Use of Network, 3rd edition
live at Orientamenti 2020
INVITATION TO WEBINAR AND SEMINAR
online and open to all
Thursday 12th November 2020, 4 – 5 p.m. CET

on the digital platform of Orientamenti 2020
Spreading knowledge and using the web correctly, actively, and consciously is important not only to be digital citizens and also to take advantage of all the opportunities offered by new technologies.
The initiatives carried out within the SUN – Smart Use of Network Project, in its third edition, promoted by Regione Liguria in collaboration with Aliseo, and carried out by Scuola di Robotica, are aimed at sharing contents and experiences.
The aim of the synchronous webinar that will take place on Thursday 12 November 2020 4.00 p.m. to 5.00 p.m. is to reflect in a participatory way on these issues together with various experts.
Referents of the Liguria Region, computer scientists, psychologists, and sociologists, the educators of the Forum Theatre, each one for his or her own competence, will offer indications to help young people to orient themselves and, above all, to orient them to the safe, responsible and effective use of the Internet.
The webinar/seminar is open to all.
Registration
To register for the webinar:
1) Register on the Orientations platform: http://www.saloneorientamenti.it/registration
2) Subscribe to the SUN 3 webinar here:
3) Click on Execute Registration and fill in the form.
You will receive a confirmation of your registration.
Or:
Register on the Orientations platform: http://www.saloneorientamenti.it/registration
Click on Meetings (Incontri)
Click on 12 November
Search SUN 4 pm, Sala Bora
Click on Sign up
For information: operto@scuoladirobotica.it