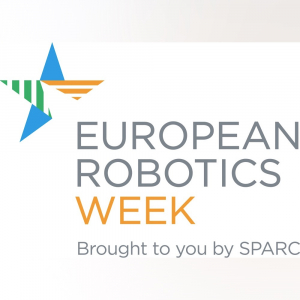 The tenth edition of the European Robotics Week 2020 (ERW) closed with the central event in Bosnia and Herzegovina.
ERW 2020 opened on 19 November 2020 with hundreds of robotics events, open to the public. In a year in which humanity is facing a global pandemic crisis, the robotics industry across Europe can help society operate in a world affected by Covid-19.
With the opportunities arising from Europe's digital transformation, thanks to Artificial Intelligence, robotics, cloud computing, the demand for ICT technicians and experts continues to grow. In the near future, 9 out of 10 jobs will require digital skills (see https://ec.europa.eu/digital-single-market/en/policies/digital-skills).
Fewer women than men take up ICT-related jobs: out of 1000 women, only 24 graduate in digital disciplines (see: https://ec.europa.eu/education/education-in-the-eu/digital-education-action-plan_en).
The European Robotics Week promotes digital skills for all and everywhere, at school, university, at work, with an emphasis on girls in particular.
The European Robotics Week was launched in 2011 by the European robotics community with the aim of bringing robotics research and development closer to the public and building the future Robotics Society. More than 550,000 people throughout Europe have participated in the ERW since its first edition. The ERW is organised in the frame of SPARC, the public-private partnership for robotics between euRobotics and the European Commission.
In 2020, despite the limitations imposed on in-presence events, the organisers have been resourceful in organising hundreds of activities across Europe and beyond.
In Italy, several dozen events have taken place and are still taking place.  School of Robotics is the National Coordinator of ERW.
Here is the full list of activities: www.eu-robotics.net/robotics_week/events/
ERW 2020 Central Event on 23-25 November in Sarajevo, Bosnia and Herzegovina
Every year the ERW chooses a venue to host the Central Event, with an opening ceremony and a set of activities. This year's Central Opening Event was hosted in Sarajevo, Bosnia and Herzegovina, from 23rd to 25th November and took place online.
Inspired by the theme "Robotics for humanity", the central event of ERW2020 in Bosnia and Herzegovina focused on the positive effects of robotics and technology on everyday life, economy and health, especially taking into account the challenges arising from the global COVID-19 pandemic and the potential of technology to address them.
The event took place on the 10th anniversary of the European Robotics Week and coincided with the European Researchers' Night on 27 November. It was organised by the Association for the Promotion of Culture, Science and Film BALKANFILM and the European Union Info Centre in Bosnia and Herzegovina.
Website: www.robotics-week.eu
Hashtag #ERW2020
Twitter: twitter.com/eu_Robotics twitter.com/SPARCrobotics
Facebook: www.facebook.com/euRobotics www.facebook.com/SPARCrobotics
LinkedIn: www.linkedin.com/company/eurobotics-aisbl
Youtube: www.youtube.com/user/euRobotics
Credits for photographs: @SPECS_lab
Contacts: media@roboticsweek.eu
Translated with www.DeepL.com/Translator (free version)